At the heart of Normal's Uptown Redevelopment Plan is a new roundabout and "town green" that incorporates stormwater management and public recreation into a vibrant gathering space. It achieves this by capturing and storing runoff from the streets and then recycling it through a water feature that makes stormwater management a visible public amenity. The streetscape features tree wells with uncompacted soils that add to stormwater storage and prolong tree life, increasing carbon sequestration. The circle and streetscape are a functional statement of the community's commitment to sustainable urban redevelopment.
Normal's Uptown Circle has won the 2011 National Award for Smart Growth Achievement in the category of Civic Places. Each year the award is given to communities "that are committed to creating healthier, safer and more economically and environmentally sustainable places to live, work and play."
Click on the images below to see full-sized versions.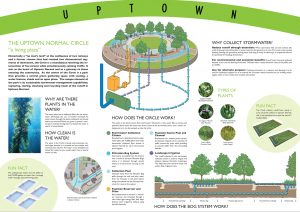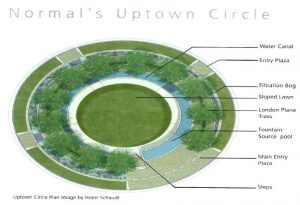 Water feature graphics and photos courtesy of Hoerr Schaudt Landscape Architects