Keys to successful education, outreach, and involvement
Phase II Stormwater permits require public education, outreach, and involvement components. Education, Outreach, and involvement are essential for success if you are serious about improving water quality in your community and want to build support for your stormwater management programs. See our list of stormwater education materials to get you started. The Ecology Action Center has been involved in various clean water public education and outreach programs throughout McLean County.
Clean Water Classroom programs/Interactive Events
The Ecology Action Center has been involved in a variety of educational programs and events that are designed to help kids become engaged and get excited when it comes to learning about clean water.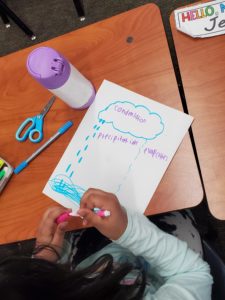 Over the past 5 years, the EAC has had over 4,000 3rd grade students involved in clean water programs at various schools in the Bloomington-Normal area.
The EAC has worked with local businesses and organizations to teach children about keeping local waterways clean through community outreach.

Children's Discovery Museum
Project Oz
District 87 Summer School
Miller Park Zoo
Boy Scouts and Girls Scouts
The Ecology Action Center's Sugar Creek Stewards program has been educating the community on the danger invasive species pose to the health of surrounding vegetation and aquatic habitats. By removing invasive species, native species can thrive, allowing them to help reduce stormwater runoff.
On the 3rd Saturday of every month, volunteers in the last five years have put in around 250 hours of work along sections of Sugar Creek primarily at Ewing Park II Park and Fairview Park removing invasive plant species and planting more native plant species.
The Ecology Action Center promotes gardening and lawn care practices that reduce stormwater runoff and the need for chemical fertilizers, herbicides, and pesticides.
Rain Barrel Workshops: The EAC has hosted multiple rain barrel workshops that demonstrate the benefits of collecting rainwater to conserve water and reduce stormwater runoff that comes from roofs, gutters, and yards
Yard Smart Garden Walk: The Yard Smart Garden Walk gives participants the opportunity to see yards that have put these environmentally friendly lawn care practices into place. The 2021 Yard Smart Walk had 97 attendees who were able to come together to learn about gardening techniques that will lead to healthier waterways through the elimination of fertilizers, pesticides, and stormwater runoff.
Rain Gardens: The EAC practices what they preach by having our own demonstration rain garden. This rain garden was installed in 2014 and helps to filter and direct ground water. This garden additionally includes native landscaping which do not need chemicals or gallons of water to maintain.
As a part of the EAC's mission to educate the community on the importance of clean water, volunteers participate in spray painting stencils next to storm drains that say "Drains to Stream, Keep it Clean". In addition to the stencils, informational flyers about stormwater pollution and how homeowners can limit their contribution to the pollution are placed on door handles.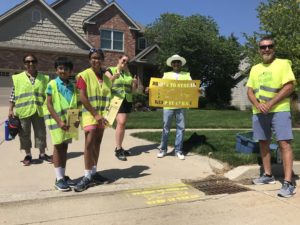 An average of over 280 storm drains are stenciled annually and over 1,200 door hangers are given out to residents around Bloomington and Normal.